Available Now
There's nothing like a little variety to keep things interesting. Not least when it comes to beer, so we like to throw a once-off beer into the mix when we have space in the busy brewing schedule.
So here's the beers that we've released into the wild at the moment. Keep an eye out for them as they won't be hanging around too long. (That said, when a supposed one-off beer is very popular we've been known to brew it again.)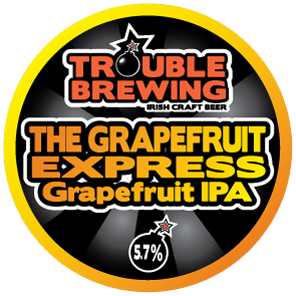 The Grapefruit Express
Style: Fruit IPA

Strength: 5.7% a.b.v.
Tasting Notes: This is a big bold American IPA, packed full of grapefruit notes. The initial aroma is pithy grapefruit and sweet orange, boosted by some complimentary hops. First tasting is sweet grapefruit, coming from the addition of over 60kg of juice, followed with a nice level of bitterness and a sweet malt profile, all finishing with a clean acidity from the fruit that leaves a lingering zesty flavour on the palate.  
Grain: Irish Pale Malt, Carapils, Cara Ruby, Light Crystal

Hops: Bravo, Mosaic, Amarillo, Citra, Comet

Brewed:  June 2017

Silk Road
Style: Saison

Strength: 5.8% a.b.v.
Tasting Notes: Silk Road has been brewed to be a classic rustic style saison in reminiscence of the old farmhouse ales brewed in Wallonia. Brewed with a very under-modified base malt, malted wheat & hopped exclusively with Saaz, Silk Road gives a very welcoming phenolic nose and clean refreshing flavour.
With aromas of lemon rind, clove, pink pepper corn & freshly cut grass, the beers nose tempts you into its first sip. Upon tasting Silk Road you'll find it offers flavours of citrus fruit, bubblegum, fresh straw and more of that lemon you smelled in the nose of the beer. This experience is ended with a very clean and dry finish, backed up with a firm bitterness. Silk Road Saison is the perfect pair for your summer days and evenings. Á votre santé.
Grain: Stout Malt, Wheat

Hops: Saaz

Brewed:  June 2017